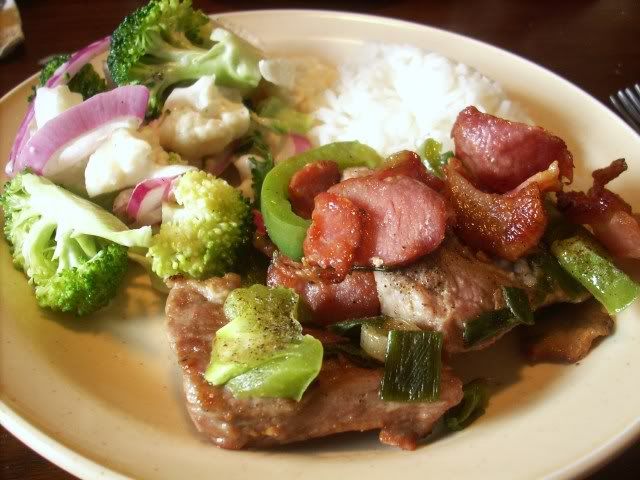 My sweet husband and I have been married for 6 years, as of yesterday. When Jeff asked if I wanted to go out to eat or make something special here at home, my answer was obvious - I always prefer a great home cooked meal! So here's what we ate for our special meal to celebrate 6 years of marriage.

Pork and Bacon Skillet
Jeff created this dish specifically to use cheap cuts of pork and bacon ends. Since he didn't really measure anything, all amounts are approximate.
Start by cooking about 1/4-1/2 lb. bacon ends. Remove from pan and set aside, leaving bacon grease in the pan. Cut about 2 lb. pork into 3-inch chunks and add to pan. Brown on both sides. Add a sliced green pepper, some sliced green onions, 1 cup beef broth (or 1 cup water and 1 tsp. bouillon), and the bacon, plus salt and pepper to taste. Cover and simmer about 30 minutes, stirring occasionally. Serve with rice.

Broccoli and Cauliflower Salad
A delicious and hearty salad from the new
Southern Plate Cookbook
(love this book!!!!!!!)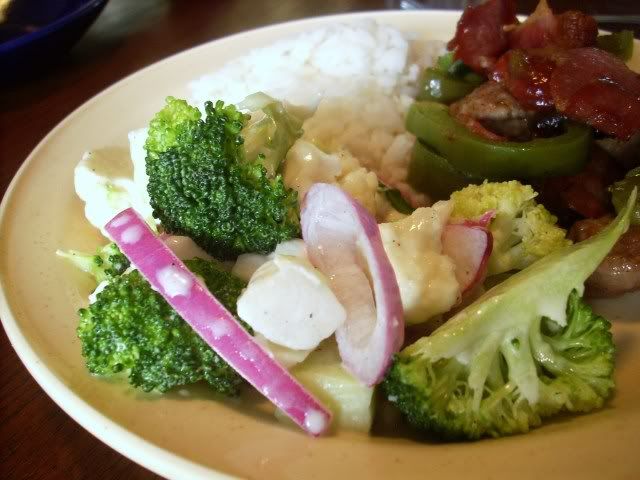 1 head cauliflower, broken and sliced
1 head broccoli, cut up
2 small onions, cut and separated into rings (I used half of a large red onion)
1/2 cup mayonnaise
1/3 cup vegetable oil
1/3 cup cider vinegar
1/4 cup sugar
1/2 tsp. salt
1/4 tsp. pepper
Combine the vegetables in a large bowl. Whisk together the remaining ingredients in a separate bowl. Add to vegetables and toss to coat. Refrigerate until ready to serve.

Anniversary Pie
This pie has become tradition since I created it a couple years ago. I've made it differently
each time
, but it's always delicious. This time I went for a yummy cinnamon flavor.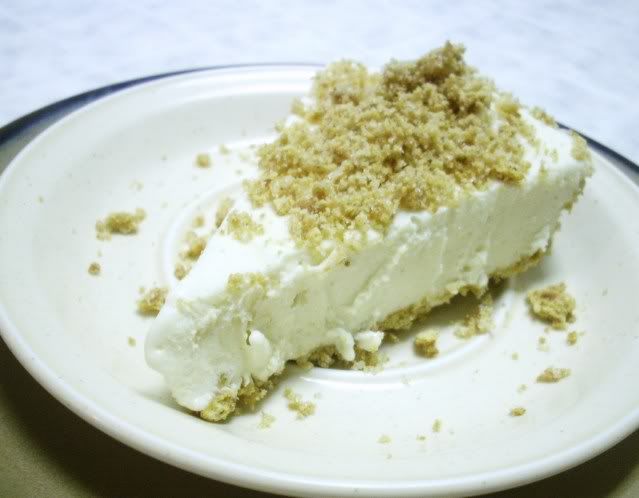 1 package cream cheese, softened
1/3 cup sugar
1/2 cup eggnog
1/2 cup ice cream (fried ice cream flavor - cinnamon ice cream with shortbread chunks and a caramel swirl, yummmm)
1 graham cracker crust, made with cinnamon grahams
Additional cinnamon graham cracker crumbs
Beat cream cheese and sugar until smooth. Beat in eggnog and ice cream. Pour into crust and freeze until firm. Remove from freezer 10 to 15 minutes before slicing to soften the pie. Return any uneaten portion to the freezer. Sprinkle each slice with additional cracker crumbs.