Monday and Tuesday we canned a
lot
of peaches. Yesterday after doing our canning, my sister and I made some more treats from the peaches that we didn't put up. Janelle chose to make a pie, and I made ice cream.
Peach Glacé Pie
6 cups peaches, peeled and sliced
2/3 cup water
2/3 cup sugar
2 tbsp cornstarch
Baked pastry shell
Janelle made her pastry shell from scratch. Here it is, all beautifully pricked and fresh out of the oven. Sometimes Janelle gets quite artistic about her food.
For glaze, in a blender container or food processor, combine 1 cup peaches and the water. Cover and blend or process until smooth. Add enough additional water to equal 1 1/2 cups. In a medium saucepan combine sugar and cornstarch. Stir in blended peach mixture. Cook and stir over medium heat till mixture is thickened and bubbly. Cook and stir for 2 minutes more. Cool for 10 minutes without stirring.
Spread about 1/4 cup of the glaze over bottom and sides of pastry shell. Arrange half of the remaining peaches in pastry shell. Carefully spoon half of the remaining glaze over fruit. Arrange remaining fruit over first layer. Spoon remaining glaze over fruit, covering each piece.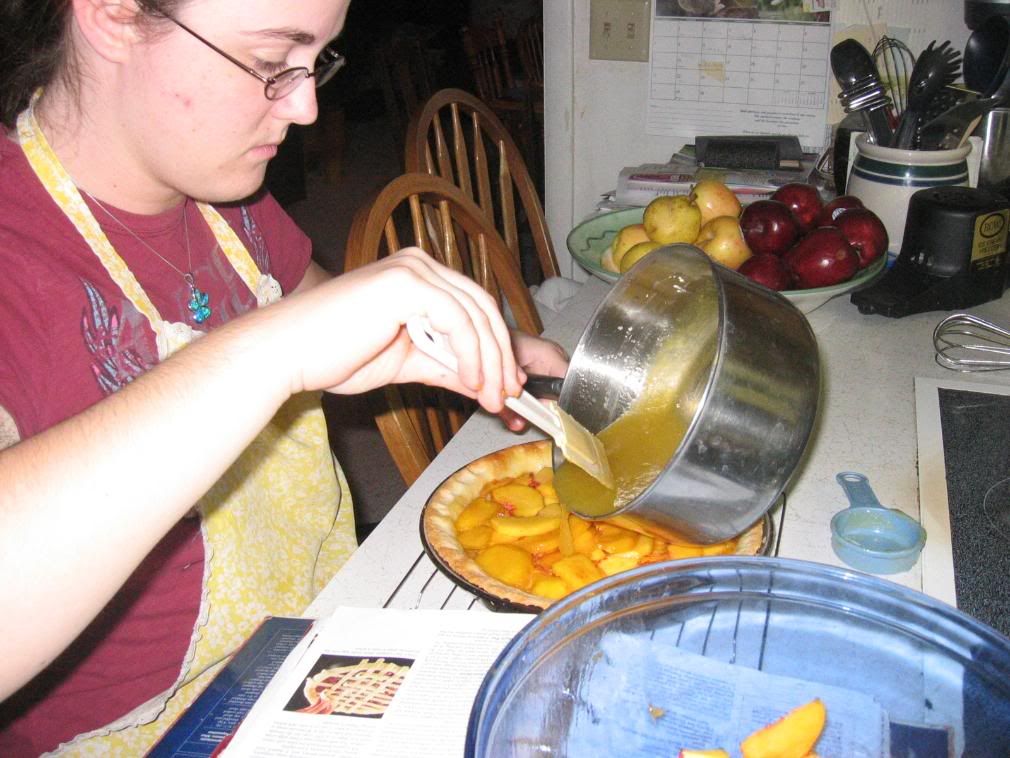 Chill for 1 to 2 hours. Garnish with whipped cream or serve with ice cream.
Unfortunately, the pie wasn't done chilling by the time I had to leave, so I didn't actually get to eat any of it. So if anyone makes this pie, please let me know how it turns out. Rub it in that you get to eat it and I don't.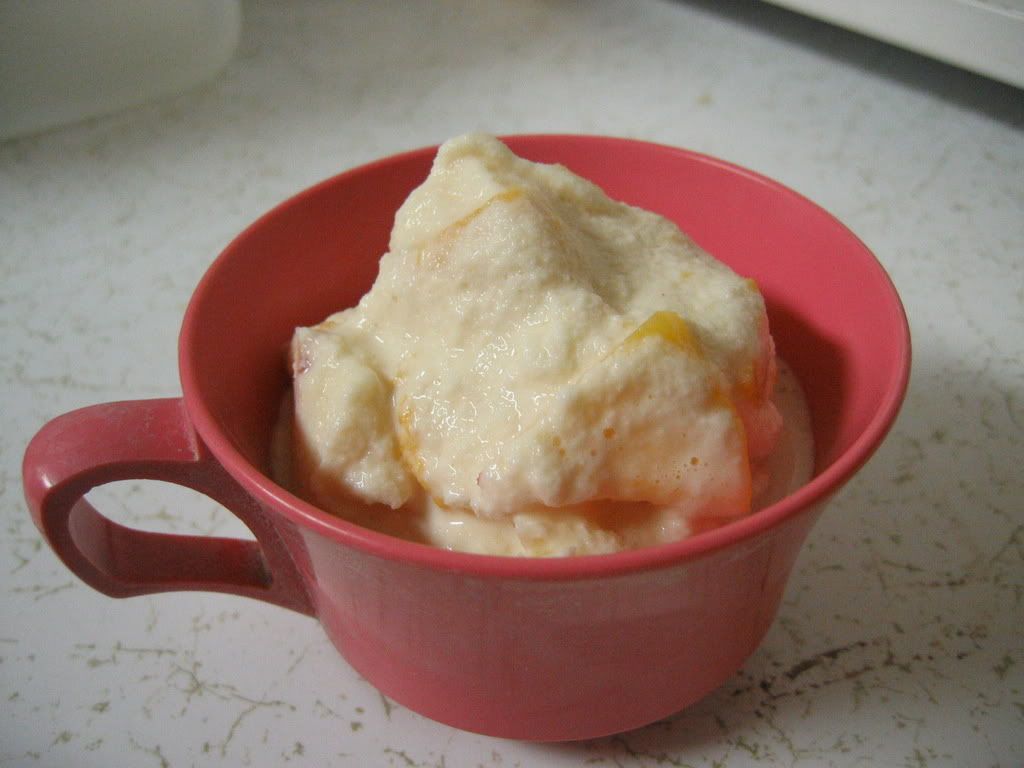 We had a lot of problems getting this ice cream to work. It's not the recipe - the recipe is absolutely delicious! It was the ice cream maker. Mom and Dad have had this ice cream maker for many many years. It's probably about as old as I am. Mom forgot to crush the ice before adding it to the machine, so the canister kept catching on pieces of ice. And as for me, with this machine it works better to add the fruit after the ice cream has frozen properly, or the machine has a hard time turning. And I added nice big chunks of peach right at the beginning with all the other ingredients. So we ended up with a thick ice cream soup. But it was really,
really
tasty ice cream soup!
Peach Ice Cream
2 (14 oz) cans sweetened condensed milk
5 cups milk
2 cups heavy cream
2 tsp. vanilla extract
1/2 tsp. salt
3 cups chopped peaches (or substitute fruit of choice)
Combine all ingredients in canister of ice cream maker. Freeze according to manufacturer's directions.