Been a long time since I posted, I'll just jump right into this post and we'll forget about the fact that I haven't put anything up here since, um, September. Yeah.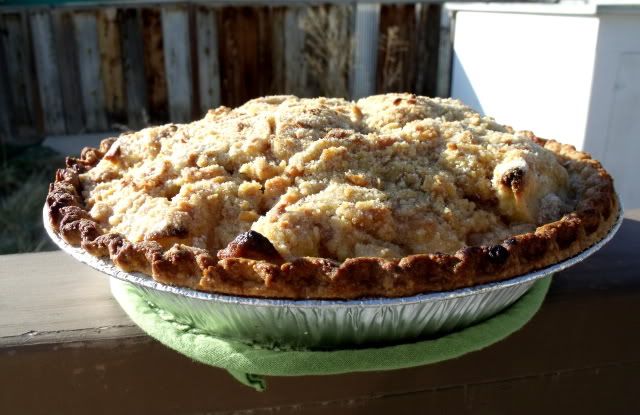 This is a super yummy pie from
The Bad Girl's Kitchen
, my partner for November's
Taste&Create
. Taste&Create is a monthly blog event where you're paired up with another blogger, and you make a recipe form your partner's blog while they make one from yours. I chose to make Min's Pear Pie, because it looked tasty, and simple to make. And I love pie. I made it with apples instead of pears, because that's what we had on hand. I would love to try it with pears next time I make it, because there will definitely be a next time. :)
Pear (or apple) Pie
7-8 large pears (or apples), pared, cut into slices
3 TBL lemon juice
1/4-1/2 cup sugar
3 TBL flour
1 tsp. lemon zest
Mix all together and spoon into one 9 inch unbaked pie shell
Sprinkle with the following mixture:
[ 1/2 cup flour, 1/2 cup sugar, 1/2 tsp. each ginger & cinnamon
cut in 4 TBL butter until crumbly ]
Bake Pie in preheated 400 oven for about 45 minutes.